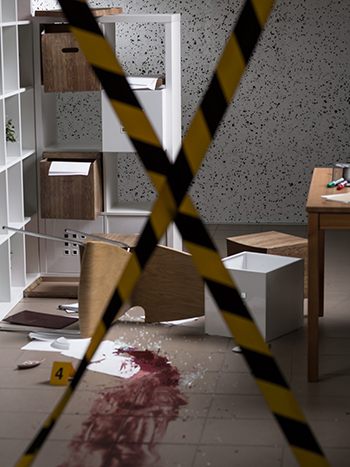 When an incident occurs that involves bodily fluids, blood, or tissue, the remediation of the home or business and disposal of material is called trauma scene cleanup. These scenes are often sensitive and emotional, so it's important to contact professionals who are experts in both managing the biomaterial and understanding the compassion needed to deliver exceptional service during a trying time.
There are a variety of circumstances that defines what a trauma scene-clean-up is. Here are a variety of examples but it is more often than not involving bodily fluids:
Crime scene cleanup
Suicide, homicide, and unattended and accidental death
Airborne pathogen and blood cleanup
Infectious disease, viral, and microbial site disinfecting
Bodily fluids and tissue cleanup
Pacific Environmental has the experience to take care of the clean-up but equally as important is the handling of the sensitive nature of the loss. We understand these circumstances more than most and will provide compassionate services from beginning to end.