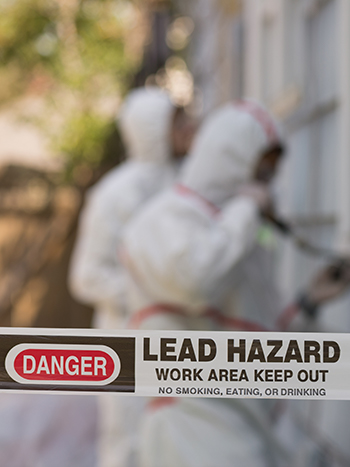 Many structures built prior to 1978 contain lead-based paint. Lead was used in paint to give longevity and is often found on eves, window frames, walls and most often, exterior paint. Lead paint in good condition is usually not the problem, but when pain started to peel or chip or lead surfaces rub together to create lead containing dust, it becomes extremely hazardous as lead can easily enter the body through breathing or swallowing. Lead damages the functions of the brain, nerves and kidney. Children 6 and under as well as pregnant women have the greatest risk of effects from lead poisoning which can cause permanent damage to developing brain and system functions.
Common sources of lead in the construction industry:
Lead based paint on - windows & window sills, stairs, railings, banisters, exterior siding, doors & door frames, porches, fences, garage floors
Lead contaminated soil
Lead contaminated dust from paint or soil
Dust taken home by those working with lead (by occupation or by hobby)
When a building suffers structural damage or plans for renovations are made where lead paint is suspected to be disturbed, the paint should be tested for lead to avoid health hazards and to make sure debris is properly waste streamed for disposal. Laboratory analysis of lead paint chips is the most accurate test for lead paint. For a moderate cost, paint chips can be sent to a laboratory to be analyzed. This is called X-ray Fluorescence (XRF) testing and is performed in a building with a portable (XRF) meter that provides immediate results. XRF testing must be done by a trained, certified XRF lead inspector. XRF testing is very expensive and not always accurate compared to a lab test.
The Lead-Paint program and RRP Rule (Renovations, Repair & Painting) establishes requirements for firms and individuals paid to perform activities that may disturb lead paint surfaces in housing and child-occupied facilities. Requirements involve certification, removal, handling, clean-up and disposal of hazardous materials. All of PEAS Inc. employees are tested periodically for lead levels in their bloodstream to ensure their safety. Our employees that are licensed to do lead work stay registered with the Department of Health Services (DHS) and are (DHS) certified. In addition, PEAS Inc. have (DHS) certified supervisors on staff to oversee all lead removal projects. We have the experience, work force and equipment to do the job right, the first time. Our primary goal at PEAS Inc. is our customers and providing a safe environment for everyone.
Our Lead Supervisors and technicians are trained and adhere to all OSHA and Department of Transportation Regulations to ensure the safe removal and lawful disposal of lead paint.
For more information on Lead - related regulations, click on these links: